Premium Orbite bedside table
Rounded sofa end unit
Extend the Gautier experience right to your phone. See your project in augmented reality and design your Gautier interior.
Premium Orbite bedside table
Product details
Avec son format compact, ses lignes arrondies et sa finition noire moderne, ce bout de canapé se prête à tous les styles d'intérieur et s'intègre parfaitement à votre espace de vie. En guise de table d'appoint, ce petit meuble est très pratique pour poser vos télécommandes, un verre, une plante ou un livre tout simplement. Il peut aussi servir de table basse dans un espace réduit et devient alors un meuble "gain de place" par excellence. Si vous disposez de plus d'espace, ce meuble peut servir de table basse supplémentaire pour poser des douceurs à proximité de vos invités par exemple. Enfin, sa légèreté vous permet de le déplacer facilement et de l'installer là où il vous est le plus utile.
Features and dimensions
app.product.show.characteristics.code.label
1B32390
Materials
The ZENITH headboards and MIXTE bed surrounds are made from particleboard covered with CertiPUR-certified HR polyurethane foam (28 kg/m3) with 100% polyester wadding. Decorative elements and frame in particleboard covered with metal grey foil, edges with the same finish. Specifications of Alk Bello grained feel fabric: 75% PVC, 23% polyester, 2% polyurethane. Weight 560 g/m2. Abrasion resistance: over 22,000 pressured passes (rubs). Lightfastness: 4/4. Havana raw feel: 41% polyester, 39% polyurethane, 20% cotton. Surface: 100% polyester. Weight: 755 g/m². Abrasion resistance: over 32,000 pressured passes (rubs). Lightfastness: 4/5. All furniture is self-assembly except where marked * (fully assembled with possible exception of handles, floor protectors and castors). 1 grey tempered glass shelf.
Details
| | |
| --- | --- |
| Materials | Particleboard |
| Weight | 7 kg |
| Dimensions | W. 37 cm * H. 56 cm * D. 37 cm |
Download assembly instructions
Origin : France 🇫🇷
Manufacturer: Gautier
Origin: France
Produit origine France
Guarantee : 10 years
10 years warranty
The 10 years warranty applies to Gautier furniture.

GAUTIER will resolve, for free, any manufacturing defect which may arise following domestic and indoor use of the product, unless it was a display model.
The warranty is limited to the repair of any parts or furniture deemed faulty or the replacement thereof by a comparable product. Any other service or indemnity is excluded from the guarantee.
In the event that an original part cannot be provided (item out of stock), a compa-rable component or coating will be offered.
This rounded sofa end unit has a beautiful contoured effect.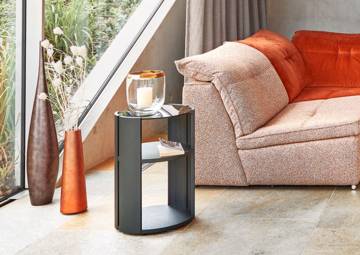 This ORBITE sofa end unit is really distinctive. Its circular design gives it a very elegant look. Decorated with an ornament or an attractive plant, it will add style to your lounge area. Cleverly designed, it features interchangeable shelves.
Its timeless black finish is distinctly on trend.
The ADDICT collection blends style with practicality
Our ADDICT furniture is easily recognisable with its unusual lines and mix of shapes, heights, materials and colours. An excellent choice for anyone who likes to add personality to their home through practical, well-designed furniture.
Why you'll love our bedside tables
Our bedside tables have a style of their own
Our attractive beside tables are easy to pair with the rest of your furniture. Their immaculate finishes give them a refined, elegant look. They will bring out the best in your bedroom.
Our bedside tables are attractive and practical
We have a wide variety of free-standing and wall-mounted bedside tables designed to meet your needs and suit all spaces. They are a "smart solution", offering plenty of clever design features.
Our bedside tables offer functional good looks
Our bedside tables are functional without compromising on style. They all feature drawers with soft-close mechanisms, so will withstand your daily demands without making a sound!
Need some inspiration to find the right style?