Tactil chest with 4 drawers and 2 compartments
A spacious dresser, and more!
Product details
TACTIL 4-drawer dresser with 2 compartments
Features and dimensions
Reference
1A10160
Materials
Frame and fronts in particleboard covered with white foil or grey melamine. Edges: - 2mm ABS thick or flat, same finish. - 2mm thick edge trims in metallic grey ABS. Handles in metallic grey anodised aluminium. Metallic grey ABS feet. Silvered glass on the mirror and door of the corner wardrobe. Drawer frames in particleboard covered in white polypropylene (PP). White roller drawer runners with soft-close mechanism. Clip-on hinges. Foam seat on the multimedia unit in beige EVA, pantone 4655U. All furniture is self-assembly except where marked * (fully assembled with possible exception of handles, floor protectors and castors).
Details
| | |
| --- | --- |
| Materials | Particleboard |
| Assembly | Meuble à monter soi-même |
| Weight | 68 kg |
| Dimensions | W. 100 cm * H. 84 cm * D. 45 cm |
| Package sizes | Package 1: 88 x 51 x 105 cm (68 kg) |
Download assembly instructions
Origin : France
Manufacturer: Gautier
Origin: France
Guarantee : 10 years
10 years warranty
The 10 years warranty applies to Gautier furniture.

GAUTIER will resolve, for free, any manufacturing defect which may arise following domestic and indoor use of the product, unless it was a display model.
The warranty is limited to the repair of any parts or furniture deemed faulty or the replacement thereof by a comparable product. Any other service or indemnity is excluded from the guarantee.
In the event that an original part cannot be provided (item out of stock), a compa-rable component or coating will be offered.
Ideal with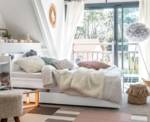 Find out more about this product
Continue on your computer or tablet to start a new project
This dresser is cleverly designed as it offers a wide range of different storage spaces. This is an amazing new mix!
The deconstructed handles on the sliding drawers add a modern touch that kids will find fun and teens will love.
Need some inspiration to create the cosy home of your dreams?
Let's imagine together the ideal room for your children
We support you to imagine your children's dream room: furniture, decoration ... A complete project from A to Z for a space in their image where they can fully develop.
We have plenty of advice, ideas and handy hints!
Gautier makes tidying your bedroom child's play
Practical, well-designed furniture
For your child's bedroom to be tidy and organised, they need practical, clever storage spaces. Giving them low storage units, under desks and on walls, makes it easier for them to sort and organise their belongings and toys.
A tidy, organised bedroom
Thanks to the great storage capacity of this unit, your child will have all the space they need to carefully arrange their belongings and toys. No more hotchpotch! Each item will have its own place in the bedroom.
Our storage units are durable
All our storage units are made in France using materials selected for their quality and sturdiness. We test their robustness to ensure they can withstand the test of time and the boundless energy of your children.
We will help you complete
our children's bedroom
Seen something that grabs your attention?
We thought you might
like these products