Interior designers' advice
Choosing the right desk for your child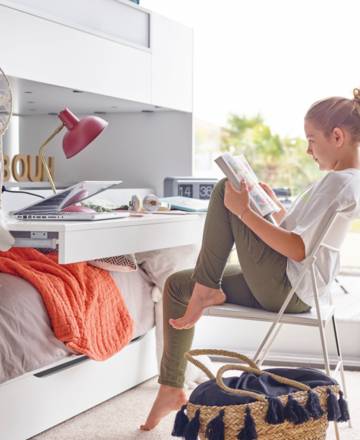 Your child is now old enough to have their own desk where they can do their homework, study, draw and play with their figurines in the peaceful setting of their own bedroom. Now is the time to add a stylish, functional desk that makes them smile when it's time to get out their school books, pens and pencils!
A desk that caters to their needs and is in the right place
Start by choosing a suitable desk: check that your child's feet touch the ground and their elbows are at the height of the work surface. To create a stylish study area, choose an elegant, designer office chair. Of utmost importance is ensuring your child is truly comfortable because as they grow they will spend more time doing their homework. We recommend placing the desk near a window, so they have a work space with natural light which makes it much nicer for reading and drawing.
Create a homework space that's also great for other pastimes
To make their study area easy to organise, add as much storage as possible. This might include a bookcase, wall shelves or mobile units that sit just beside or underneath the desk. You can also consider desks with inbuilt storage such as drawers, alcoves and slide-out work surfaces. This creates more space and lets your child work on a clear desk with no clutter.
Introduce your child to Gautier office furniture
Lodge desk: stylish and practical with its drawer and two inbuilt USB ports

Graphic desk: smart and elegant thanks to its wide, deep drawer

Urban desk: an L-shaped desk that attaches to an Urban bookcase or under-desk unit
Our final tip is to involve your child in choosing the desk. If they find one they love, go for it! It is important to involve them when adding new furniture to their own personal space. You may also want to add other storage furniture to make it even easier to organise their study and leisure area.