Montmartre wall-mounted dressing table
An unbeatably charming dressing table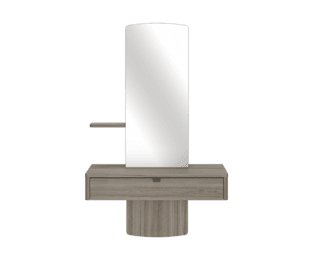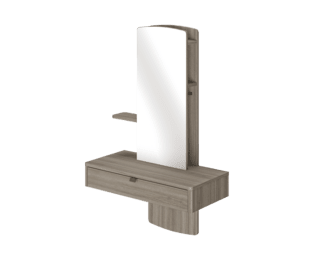 Extend the Gautier experience right to your phone. See your project in augmented reality and design your Gautier interior.
The MONTMARTRE dressing table is an excellent choice for enhancing the style of your room. It is an elegant piece of furniture with a very feminine feel that blends in seamlessly with your bedroom.
This dressing table has a very beautiful mirror that will add height and depth to your bedroom.
With its bold styling, the MONTMARTRE collection features textures and rounded shapes to create a stunning, modern bedroom.
The "herringbone" style and the "vintage oak" finish accentuate the elegant, timeless feel of this collection. Each element of the MONTMARTRE furniture conveys our vision of "French chic". Our dedication and audacity shine through each and every detail of our furniture to enhance your home.
Why will you love our chests of drawers and tall chests?
Practicality guaranteed
Carefully selected bedroom furniture is crucial to getting a good night's sleep. Our furniture means you can keep all your belongings neat and tidy so you have space to breathe in a bedroom free from clutter.
Clever storage solutions
The various heights of our tall chests and the generous depths of our chests of drawers mean you can maximise the space in your bedroom whilst enjoying excellent storage capacity.
Our furniture is designed to last
Our drawers undergo intensive laboratory testing to guarantee excellent durability during use. We use soft-close mechanisms and high-quality materials to ensure excellent resistance to wear and tear so they are guaranteed to last.
Gautier & you
Your sofa looks nowhere better than in your home
Seen something that grabs your attention?
We thought you might
like these products
Need some inspiration to find the right style?