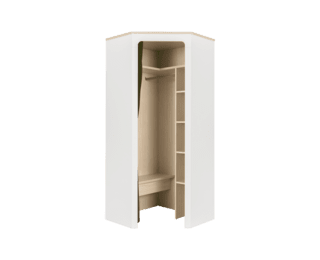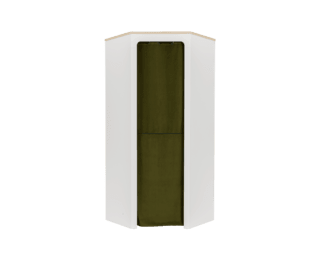 Want to see it in your home in augmented reality?
Display the 3D view on your mobile and activate augmented reality to visualise this piece of furniture in your room.
Click on the cube icon below the product image and wait until the module loads
Click on the blue icon visible on the 3D image. Soon you'll see your furniture in your room!
Features and dimensions
Reference
1A22370
Materials
Particleboard covered with sanded white, sanded black and veined ash melamine; thick 1mm edges with the same finish, ridged on the wheels. Digital print on the footboard, panels and wheels. Front sides: fibreboard covered with white foil. Insides of wheels: fibreboard covered with black foil. Wheel tracks: poplar plywood with laminate finish. Tubes: black epoxy steel. Bed roof and wardrobe curtain: green 100% polyester fabric, weight 364 g/m2 abrasion resistance: 75,000 rubs, colour fastness to artificial light: 5/5. Lighting: 2 round 'headlamp' lights with touch control. Customisable licence plate to order ref. 1A22110: 20 characters maximum. All furniture is self-assembly except where marked * (fully assembled with possible exception of handles, floor protectors and castors). 1 hanging rail 1 green fabric curtain and hanging rail Reversible inner layout
Details
Materials
Particleboard
Assembly
Meuble à monter soi-même
Weight
121 kg
Dimensions
W. 91 cm * H. 211 cm * D. 91 cm
Package sizes
Package 1: 32 x 17 x 93 cm (23 kg)
Package 2: 46 x 7 x 218 cm (37 kg)
Package 3: 97 x 4 x 99 cm (13 kg)
Package 4: 88 x 4 x 220 cm (24 kg)
Package 5: 90 x 4 x 220 cm (24 kg)

Download assembly instructions
Origin : France
Manufacturer: Gautier
Origin: France
Guarantee : 10 years
10 years warranty
The 10 years warranty applies to Gautier furniture.

GAUTIER will resolve, for free, any manufacturing defect which may arise following domestic and indoor use of the product, unless it was a display model.
The warranty is limited to the repair of any parts or furniture deemed faulty or the replacement thereof by a comparable product. Any other service or indemnity is excluded from the guarantee.
In the event that an original part cannot be provided (item out of stock), a compa-rable component or coating will be offered.
Ideal with
Find out more about this product
Continue on your computer or tablet to start a new project
Need some inspiration to create the cosy home of your dreams?
Let's imagine together the ideal room for your children
We support you to imagine your children's dream room: furniture, decoration ... A complete project from A to Z for a space in their image where they can fully develop.
We have plenty of advice, ideas and handy hints!
Gautier makes tidying your bedroom child's play
Practical, well-designed furniture
For your child's bedroom to be tidy and organised, they need practical, clever storage spaces. Giving them low storage units, under desks and on walls, makes it easier for them to sort and organise their belongings and toys.
A tidy, organised bedroom
Thanks to the great storage capacity of this unit, your child will have all the space they need to carefully arrange their belongings and toys. No more hotchpotch! Each item will have its own place in the bedroom.
Our storage units are durable
All our storage units are made in France using materials selected for their quality and sturdiness. We test their robustness to ensure they can withstand the test of time and the boundless energy of your children.
We will help you complete
our children's bedroom
Seen something that grabs your attention?
We thought you might
like these products